Wearable hidden cameras, trackers, and other wearable surveillance devices and personal protection gadgets have become increasingly popular for personal security and surveillance purposes. These devices are designed to be discreet, portable, and easy to use, making them ideal for capturing footage on-the-go or in situations where traditional cameras may not be practical. From smartwatches to body cameras, there are a variety of wearable devices available that can help individuals feel more secure and protected in their daily lives.
Showing all 27 products: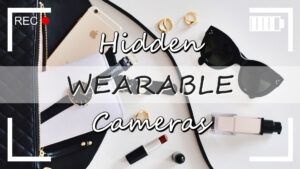 Wearable hidden cameras and other wearable surveillance devices are designed to be compact and easy to carry around, making them ideal for personal security and surveillance applications. Wearable cameras, for example, can be worn on clothing or accessories and can capture video and audio without drawing attention.
Similarly, portable GPS trackers and item trackers can be attached to personal items such as bags or vehicles to monitor their location in real-time. With the rise of technology and the growing need for personal security, these wearable surveillance & personal safety devices offer an efficient and effective way to stay protected and informed.
Best wearable hidden cameras:
Here's our selection of the best hidden cameras which are wearable on your clothes or body and can be easily used for portable surveillance!
You should also take a look at our Portable Hidden Cameras. All of these cameras and spy devices are designed to be easily carried around and placed wherever required at a moment's notice. Some of the best portable cameras we love include:
Browse more portable hidden cameras
---
Best wearable item trackers:
These wearable trackers are designed for tracking keys, luggage, pets and vehicles, but with their small size and your creativity they can be used for easy tracking of any possessions you might need.
See our Item Trackers for more related products, or take a look at Vehicle GPS Trackers and Pet Trackers for even more options.