These hidden cameras are all suitable for a kitchen, and disguised as regular household objects that won't raise suspicion. If you need to secretly keep an eye on your home kitchen, any of these spy cameras should do the trick.
Showing 1–30 of 37 products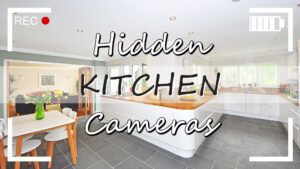 Are you looking for a discreet way to monitor your kitchen activities? Our hidden cameras are the perfect solution for keeping an eye on your cooking, ensuring the safety of your food, and monitoring any activity in your kitchen while you're away. Our selection of kitchen hidden cameras features a variety of designs, each with unique features to meet your needs.
Whether you're a professional chef, a home cook, or simply want to keep an eye on your kitchen, our hidden cameras have got you covered. From Wi-Fi connectivity for remote monitoring, to motion detection and night vision capabilities, our cameras are packed with features to ensure you have a reliable and effective monitoring solution. Shop our selection today and take the first step towards peace of mind in your kitchen.
Our top 10 choices for hidden kitchen cameras:
Choosing the right kitchen camera always depends on your specific needs, and even house decor. Some objects may be easier or harder to ignore in a kitchen environment, but if you need to secretly keep an eye your kitchen any of these spy cameras can do the job for you:
How to buy a great kitchen spy camera
When it comes to choosing a hidden camera for your kitchen, there are several things you should consider to ensure you get the best device for your needs. First and foremost, you should consider the camera's video quality. Look for a camera with at least 1080p resolution, which will give you clear and detailed footage. You should also consider the camera's field of view to ensure that it captures the entire kitchen area. A camera with a wide-angle lens is usually the best option.
Another important feature to consider when choosing a hidden kitchen camera is its connectivity options. Many hidden cameras offer Wi-Fi connectivity, allowing you to remotely view the footage from your smartphone or computer. This feature is especially useful if you are away from home and want to check on your kitchen. Motion detection is also an important feature to look for in a hidden kitchen camera. This feature allows the camera to detect movement in your kitchen and alert you via email or push notification. It can be especially useful in detecting any potential intruders or unusual activity in your kitchen while you are away.
Lastly, it is important to consider the camera's size and design when choosing a hidden kitchen spy camera. You want to choose a camera that blends in with your kitchen décor and is not easily noticeable. Many hidden cameras are designed to look like everyday kitchen items, such as a clock, clothes hook or a smoke detector, making them discreet and easy to hide. Overall, when selecting a hidden kitchen camera, you want to prioritize features such as video quality, connectivity options, motion detection, and design to ensure you get the best camera for your kitchen surveillance needs.
---
Find more hidden cameras for: