Indoor hidden cameras and other surveillance devices can let you keep a watchful eye on your belongings and property. Take a look at our selection of hidden indoor spy cameras and choose one suitable for your use.
Showing 1–30 of 71 products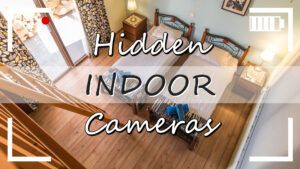 Hidden cameras are becoming increasingly popular as they allow you to keep an eye on your home or business without being noticed. Hidden indoor cameras come in various forms, such as in the shape of a clock, picture frame, or even a USB charger. They can blend seamlessly into any home decor or office environment while still providing a reliable and discreet way of monitoring your surroundings.
Whether you're looking to keep an eye on your children, pets, or valuables, hidden indoor cameras can give you peace of mind knowing that you can always check on them remotely. Many of these cameras can easily be accessed through your smartphone or computer, making it even easier to stay connected and aware of what's happening in your home or office. Browse our selection of hidden indoor cameras and find the perfect one for your needs.
Our top choices in hidden indoor spy cameras:
We currently have 71 cameras suitable for indoor use. They can be used in any room in your home, and also in other places such as offices or hotel rooms.
You can further narrow down hidden cameras by placement by going to our pages about hidden cameras in Kitchen, Bedroom, Bathroom, Living Room, Home or Work Offices.
Here's our top 10 choices for hidden indoor cameras which are perfectly disguised as regular objects or gadgets:
Unless someone is specifically looking for hidden recording devices, all of these cameras should go perfectly unnoticed. Best way to secretly surveil your house, vacation home, office, shop, warehouse or any other place is to ensure nobody even knows there are hidden cameras inside. All of these should work perfectly for this task!
Features you should look for
When it comes to indoor hidden cameras, there are several features that customers may find essential. One of these is WiFi connectivity, which allows for remote viewing from anywhere with an internet connection. This can provide peace of mind for those who want to keep an eye on their home or office when they are away.
Another important feature is motion detection with alerts. This can be especially useful for those who want to know when someone is in their home or office. The camera will send an alert to the user's smartphone or other device when motion is detected, allowing them to take appropriate action.
Night vision is also an important feature for hidden indoor cameras, as it ensures clear footage even in low light conditions. This can be particularly useful for monitoring a home or office at night or in areas with poor lighting.
Other features that customers may look for include high resolution video, easy installation, and the ability to record footage to a cloud or local storage. All these and other features depend on your individual needs.
Do you need 24/7 surveillance, or simply require secretly recording for a few minutes or hours?
Do you have access to WiFi connections, or would you rather record on an SD card?
Our wide selection of indoor spy cameras is no doubt suitable for any possible need and we have cameras with a wide variety of features. Make sure to identify your particular needs, and we are certain you will find a perfect camera for you.
---
Find more hidden cameras for: