Most hidden cameras are intended for indoor use, but there are those which can work well in outdoor settings. Do note many of these surveillance cameras are not waterproof or intended for prolonged use, but instead they are suitable for recording while on the move or outside your home.
Take a look at our selection of quality outdoor hidden cameras for discreet surveillance while outside.
Showing 1–30 of 37 products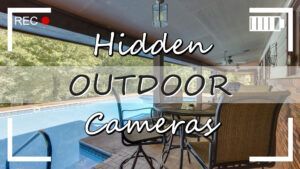 Our selection includes a variety of discreet and reliable options for outdoor surveillance. Whether you want to keep an eye on your property, monitor your business, or ensure the safety of your family, our hidden outdoor cameras can provide you with the peace of mind you need.
With advanced features such as night vision, motion detection, and remote access, our cameras are designed to provide you with clear and comprehensive coverage of your outdoor space. Browse our selection and find the perfect hidden outdoor camera to meet your surveillance needs.
Buying the perfect hidden outdoor camera
When it comes to purchasing an outdoor hidden camera, there are a few features that you should consider to ensure you get a quality product that meets your needs. First and foremost, if you need constant surveillance look for a camera that is weatherproof and durable enough to withstand the elements, such as rain, snow, and extreme temperatures. You don't want to invest in a camera that will malfunction or break down after a short period of time.
Another important feature to consider is the camera's resolution and video quality. You want a camera that can capture clear and sharp footage, even in low light conditions. Look for a camera with night vision capabilities and a high-resolution image sensor for better image quality. Additionally, you may want to consider a camera with motion detection and real-time alerts, which will notify you of any suspicious activity around your property.
Finally, it's important to consider the storage options for your camera. Some cameras may have built-in memory or an SD card slot, while others may offer cloud storage or remote streaming options. Make sure to choose a camera with enough storage capacity for your needs, as well as a secure and reliable storage solution that won't compromise your privacy or security. By taking these factors into account, you can find the best outdoor hidden camera for your specific needs and preferences.
Also see related filters:
Trail cams for 24/7 outdoor surveillance
For 24/7 surveillance of a remote property such as a cabin or vacation home, you should consider a good trail camera. Trail cams are intended for tracking wildlife, but can work just as well for watching anyone who might be on your property.
Trail cams are well disguised, they are weatherproof, and always feature excellent night vision and motion detection capabilities.
Even if you have no access to WiFi, which can be the case in remote areas such as cabins in the woods, you can consider Spypoint Wireless Cellular Trail Cam. This trail camera will use a standard cellular network to send you notifications about any movement detected.
Discreet recording outside
Most of our customers need spy cameras for recording video footage while they are outside or on the move. For this purpose there are a number of portable and wearable hidden cameras that can be used. Here are a few you may want to consider:
Wearable options:
Safety Tech Cross Necklace – this may not be the most discreet wearable camera, but most people won't think twice about there being a hidden camera inside it. But, if you require something easily concealed on your body this necklace can work well.
Hereta Glasses with Hidden Camera – These look like regular glasses, and the lens is completely hidden in the frame. Anyone who doesn't know you would never suspect this to be a spy camera, and it can easily be used to record conversations and events from a first person perspective.
Symynelec Wristwatch Camera – A great looking analog wristwatch with a built-in hidden camera can be the perfect surveillance device in almost any setting.
Don't forget we have a section dedicated to wearable hidden cameras where you can find even more alternatives.
Other outdoor hidden camera options:
Doesn't matter if you need to record a shady deal in a bar, a business meeting in a public place, a strange encounter at the gym or want to keep an eye on your tent while camping, we got you covered!
Funscam Water Bottle – this portable camera can easily be used on the move while running or exercising outside, or even in an indoor gym. It's fabulously disguised as an ordinary (and functional) water bottle, and even comes with a WiFi option.
Fuvision Pen Hidden Camera – tuck it into your shirt pocket or fiddle with it in your hand, this hidden pen spy cam will take video or photo evidence of anything you need.
Sheawasy Nightlight Hidden Camera – we love this option for camping trips or nighttime encounters in the backyard.
Yvoer Cigarette Lighter – if you're meeting in a bar or other public place, a cigarette lighter placed on a table is something most people would never suspect as a spy camera.
Lawmate Coffee Cup – this ordinary looking coffee cup can be carried and placed almost anywhere for perfectly covert surveillance.
Clodglo Car Key Camera – another ordinary object you can carry in your hands or place on a table without arousing any suspicion.
Our public use hidden cameras category can give you even more options and ideas, so don't hesitate to take a look to further narrow down potential products you could use.
Some of the products we described also have audio recording capabilities, if you require them. However, keep in mind that recording conversations may not be fully legal depending on your state or country of residence.
Find hidden cameras with audio recording or Hidden voice recording devices.
We are confident our selection of hidden outdoor cameras will be suitable to meet any needs you have. Don't hesitate to check each product to learn more about its features and choose the right one for your needs.
---
Find more hidden cameras for: