Living room hidden cameras offer an effective way to monitor your home and keep an eye on your loved ones and belongings when you're away. These cameras are designed to be discreet and blend in with the decor of your living room, making them an ideal choice for homeowners who want to keep an eye on their property without drawing attention to themselves.
Showing 1–30 of 56 products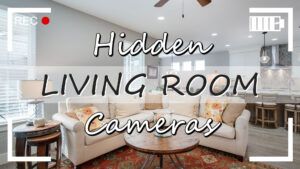 Living room hidden cameras can be a valuable tool for homeowners who want to keep an eye on their property while they're away or monitor the activities of their household members. Whether you want to keep an eye on your kids or pets, ensure the safety of your home, or simply have a way to monitor your property remotely, a hidden living room camera can be a great solution.
Choosing a great living room camera
When selecting a hidden living room camera, there are a few key factors to consider. First and foremost, you'll want to choose a camera that is discreet and blends in with your decor, so as not to draw attention or suspicion. Additionally, you'll want to select a camera with high-quality video and (and if needed, audio recording capabilities) to ensure that you can clearly capture any activity in your living room, lounge, or similar family room you frequently use.
Other features to consider may include remote access and control, motion detection with alerts, and night vision capabilities for low-light conditions. With so many options available, it's important to carefully consider your needs and preferences to choose the best hidden living room camera for your specific situation.
Our top living room spy camera choices
These top 12 hidden cameras will fit well into almost any living room. These hidden cameras are well disguised as objects that are easily found in most people's homes and will in most cases go completely unnoticed.
You should have no problem finding a good place for any of these hidden cameras. In most cases you don't even need to hide them since camera lenses on most of these products are hidden, and the products themselves don't look out of place in any home. Who would really suspect a TV remote or a clothes hook to contain a hidden camera? These will work perfectly in any guest room, sitting room, den, parlor, or whatever other lounge, entertainment or social area your home may have.
Be sure to further narrow down your living room spy camera choice by other features which can include loop recording, data storage or even power source. Once you identify your specific needs we are confident we can help you find the perfect hidden camera for your living room.
---
Find more hidden spy cameras for: